Marina bay (43o30,8'N - 16o07'E) - port & anchorage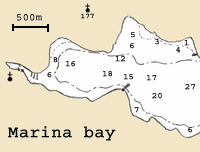 GENERAL:
The most distinctive feature of the village of Marina is its fortified tower or KULA, built in the 16'th century by the Bishop of Trogir to provide protection from the Turks. The tower has now been converted into a hotel with a restaurant. Part of the inlet at Marina is quayed and N part is
AGANA Marina
with 120 berths.
APPROACH:
Marina lies at the far W end of Marina bay, 6NM W of Trogir. Marina bay is shallow close inshore in places, but an offing of 2 cables clears these dangers. The tower of Marina is visible for some distance.

LIGHTS: FL.R. 5s8m4M at Rt Pasji Rat, 1NM E of Marina
F.R. on the quay near the tower in Marina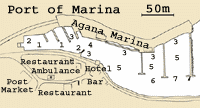 BERTH:
Tie up alongside the quay near the tower (depths are from 1-2,5m) or in
AGANA Marina
just across (depths from 3-7m)
ANCHOR:
Anchor in the center of the harbor area in 4m to 5m,

SHELTER:
There is good shelter from all directions except SE. In SE winds seek shelter between the pontoons in AGANA Marina or in Vranjica bay. (see next bay on our list)

FACILITIES:
Shops, hotel, restaurants, bars, grocery, pharmacy. ambulance, post, service, toilets, travel-lift up to 40T.
Nautical maps shown here are for information use only. Do not use it for navigation purposes.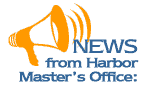 All boats coming to Trogir for berthing on
Trogir Waterfront
should announce their arrival to Harbor Master's Office at least
one day before arrival
.
Contact:
call or send a fax to:
+385/21 88 15 08
VHF Channels: 10 & 16
NAUTIC PILOT for ports and anchorages in Trogir Area:
Borak
,
Drvenik Veli
,
Fumija
,
Krknjasi
,
Marina
,
Okrug Gornji
,
Racetinovac
,
Seget
,
Sicenica
,
Solinska
,
Trogir
,
Vela Rina
,
Vinisce
,
Vranjica
.