General information about Trogir and area
Trogir
is situated in the center of Dalmatia, on the eastern coastline of Adriatic sea. The heart of Trogir is small islet laying between the gentle hills on the mainland and the coast of the Island of Ciovo. Small town of 12000 citizens is the center of Trogir micro - region which covers about 250km2.
Trogir Riviera is assemble of 20 islands, islets, small counties and villages. Find out more about the locations in Trogir area:
Arbanija
,
Drvenik
,
Marina
,
Okrug Gornji and Donji
,
Seget
,
Sevid
,
Slatine
,
Trogir Center
,
Vinisce
,
Vranjica
.
How to reach Trogir?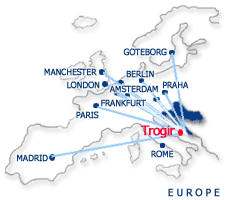 Trogir is connected with major Europe cities through very well organized airline network.
Airport Split
is only 3km from Trogir; so literally, you are just few hours away of our beautiful town. Routes shown on the map are some of direct flights for Split, although, if you fly via Zagreb, you will find many other options to reach Split. Ask your Airline Company about details (most of the European airlines companies have daily connections with Split throughout summer period). If you are coming overseas, fly through Frankfurt or London Heathrow (frequent daily flights to Split from these airports!).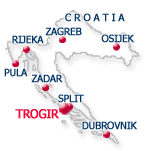 If you are coming by the road, you have three choices:
1. Highway
Dalmatina A1 - Croatian Highway Dalmatina A1 (the ex-Prgomet Highway)
2. Coastal road - Jadranska Magistrala. Beginning at Croatia's north-western border follow Jadranska Magistrala Road through the following towns before reaching Trogir:
Rijeka - Senj - Karlobag - Zadar - Sibenik - Primosten – Trogir.
3. Middle Croatian Highway D1 - Beginning at Croatia's northern border follow the D1 Highway through to the capital city Zagreb and then through to the following towns before reaching Trogir:
Karlovac - Plitvice (National Park) - Korenica - Gracac - Knin - Drnis – Trogir.
You may want to visit us by boat, either in private arrangement or by organized connections with Italian coastal cities of Ancona, Pescara, Bari or Venetia. If you are with your own boat, check our
Nautical Guide
for complete and up-to-date information about marinas, ports and berths in Trogir area. For ferry transfers, contact your Maritime agency for timetables or visit official web site of Croatian ferry company "
Jadrolinija
".
Climate, industry, people, money
Placed in the area of mild Mediterranean climate, Trogir with its 2700 sunny hours per year is a real treasure among other tourist destinations in Croatia. Average air temperature throughout the year is above 15°C, reaching more than 30°C in summer. Sea temperature is well above 25°C during summer period.
Tourism is the largest industry in Trogir region covering 50% of Trogir's budget with more than 20.000 beds in hotels and private apartments. Still, there is very b fishing and agriculture tradition among population in surrounding areas.
Everywhere you go in Trogir area, you will meet very friendly and charming people, smooth combination of Southern temperament and warm hospitality, thanks to our long tourist tradition.
All payments and prices are in Croatian Kuna (Kn), although you may ask to pay in EUR in almost every shop and restaurant, except food-markets. Approximate exchange rate is: 1 EUR = 7,5 Kn. There are four bank offices and several ATM (cash machines) located in Town center, accepting all major credit cards.