Trogir & Dalmatia gastronomy:
Characteristic of Dalmatian coastal cuisine is its digestibility and simple preparation. The secret of the fabulous taste of fish, meat, or other cooked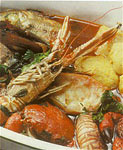 dishes lies right in that. Yet the idea that simplicity means everyone everywhere could prepare them would be deceiving. The tradition of grilling and roasting fish and delicacies of the sea in this region has been carried on from generation to generation, whereby the proper grilling technique often depends on the type of wood or wood briquettes chosen to do the grilling. In addition to this come the tantalizing Dalmatian olive oil, grilling technique, and the particular taste of the fish and delicacies of the sea. This is what leaves every guest, once they have tried it, with unforgettable memories to take back home.
Nevertheless, no matter how much you eat in Dalmatia, you´ll hardly gain a pound. Most of the Dalmatian specialties are prepared with very little fat and oil. They are easy to digest and contain many home-grown non-pouted vegetables which grow all the year round thanks to the mild climate.
Famous Trogir specialties
-
check our Recepy collection
Our town prides itself is on a wide variety of specialties, and every good cook will take great pains to procure the freshest fish and delicacies of the sea, which you can personally inspect before ordering in all of the better restaurants. Don't pass up dishes like mussels, shrimp (scampi), roast fish, delicious fish stew with rice, and meat specialties like sour marinated beef (pasticada) with noodles (njoki). To top it off we recommend a refined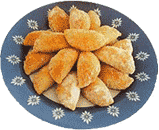 desserts like "krostule", egg cake (rozata), "rafioli cake", or one of the rich Dalmatian tortes.
Further essential ingredients used in Dalmatian cooking are raw ham, "Prsut", dried in the fall wind (Bura) and smoke of the Dalmatian back country, sheep's cheese, salty sardines, roasted lamb, beef cooked in tomato sauce (salsa), and sautéed greens with potatoes. Also do not forget the wine, known for its special taste of the south, which has been cultivated for centuries in the caring hands of wine makers in the rocky Dalmatian soil. The secret recipes for wine-making are passed from generation to generation in middle Dalmatia, and are produced in the families´ wine cellars, as well as in those of private enterprises.
If you ready to prepare some of traditional Trogir specialties,
check our Recepy collection
of fine and unique delicacies collected directly from people preparing it on exactly the same way like it was centuries ago.