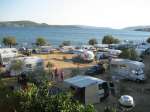 CAMP SEGET
- Hrvatskih žrtava 121, Seget
It is situated close to the coast, 2 km distant from Trogir and 28 km from Split, the two pearls of the Adriatic sea. Both towns are protected by UNESCO.
In addition to the camping area (for 350 persons) the camp also has avaliable 43 rooms with accomodation capacity for ca. 100 persons.
The guests have avaliable a private baech, a restaurant,a self-service shop, camping refrigerators. At only 300 m away from the camp there is: a bank, a post-office, a farmacy, a cafe and a fish restaurant.
A tourist settlement "Medena" with various sports facilities is 1 km distant from the camp ano connected with it by proenade. The number of guest visiting the camp site "Seget" is increasing every year. Come and see for yourself why that is so.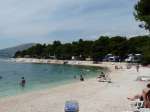 CAMPING ROZAC
- Šetalište Stjepana Radića 56, Okrug Gornji
CAMPING ROZAC is located on the Riviera of Trogir, Central Dalmatia, Split region. For just 20 min. foot, 10 min. by bus or boat can take you to the beautiful UNESCO town of Trogir and feel the ancient spirit of the Mediterranean.
The unique scenery, beautiful beaches and beautiful bays and a wealth of historical and cultural heritage are the reason why the camping Rozac is right place for your perfect holiday. Excellent transport connections (airport, highway) makes this an easily accessible destination.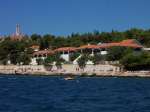 CAMP VRANJICA BELVEDERE
- Seget Vranjica b.b., Seget
Mild mediterranean klimate, beautiful view of many little islands, rock and pebble beaches, comfortabe accomodation in appartments and camping, in the shade of pine trees surrounded by a mediterranean vegetation , various sports grounds, catering facilities, nearness of Trogir – the town museum under UNESCO`s protection, are an ideal combination of natur, cultur an recreation where everyone can find a place for themselves.