Quick search for private accommodation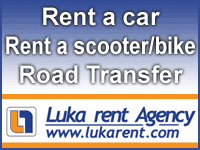 Virtual guide: South Town Gate
South town Gate, "porta civitatis", decorated with renaissance ornaments, still with preserved wooden doors in its origin look. To the east side of the gate, leaned to old town walls, is a so called Small Loggia used in the past for passengers after closing the gate, to rest and wait for the morning to enter the town. Nowadays, Loggia is open gallery and souvenir shop.
From the harbour

TROGIR VIRTUAL TOUR New perspective of Your Virtual visit:
Fortress Kamerlengo
,
North Town Gate
,
South Town Gate
,
St. Lawrence Cathedral
,
Fortress of St. Marc
,
Trogir Harbour
.