Quick search for private accommodation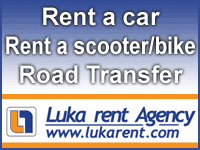 Virtual guide: Fortress Kamerlengo
Fortress Kamerlengo is situated at west end of Trogir islet, built by Venetians in Xlll - XV century as a naval base for their navy forces in this part of Adriatic. It is named by town Magistrate Camerarius. Nowadays, fortress is multimedia center with open air cinema and stage for various cultural events.

Fortress Kamerlengo can be visited daily from 0900h.
Price: adults - 10kn ; children & groups - 5 kn.
From inside
From outside