Quick search for private accommodation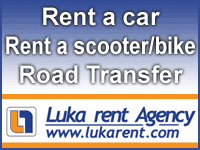 Virtual guide: North Town Gate
North town Gate "porta terrae fermae", late-renaissance main town entrance connected with small stone bridge. On the top of the gate is the patron of the Town - St. John (bl. Ivan Ursini), guarding its citizens.
From the top
From stone bridge

TROGIR VIRTUAL TOUR New perspective of Your Virtual visit:
Fortress Kamerlengo
,
North Town Gate
,
South Town Gate
,
St. Lawrence Cathedral
,
Fortress of St. Marc
,
Trogir Harbour
.