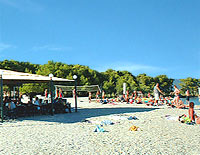 Pantan Beach (Trogir)
This beach is located 1,5 km East of Trogir Center, on the estuary of Pantan River. It is 500m long gravel and sand beach with pine-tree wood on eastern side for a nice shade. To reach this beach, take bus No.37 from Trogir bus station to Split and exit on second station, walk for 200m and turn right where you will see the sign.
There is a popular Beach Bar "Mosquito" placed directly on the seashore with cold drinks, ice-creams and light food. The area around is protected natural resort with wonderful Pantan Mills on the north side of the beach.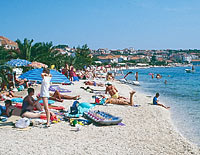 Okrug Beach (Okrug Gornji)
The Okrug Beach is most popular beach on Trogir riviera.It is 5km from Trogir center, easy reachable by road which follows south side of Island of Ciovo, to Okrug Gornji.
Two kilometers long gravel beach is also called "Copacabana" because of its popularity. The vast number of beach bars ("Cafe del Mar", "Aquarius") and few restaurants keeps this place alive through the night. There is a water-sport center with complete water sports offer for your active summer day.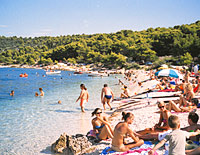 Kava Beach (Slatine)
The beach is placed on the far east corner of the Ciovo Island, in the beautiful inlet, near the old fishermen village of Slatine. It is 12km away from Trogir center. Kava Beach is one of the real natural beauties because it is not polluted by any buildings, hotels or houses in the area.
To reach it, you must pass through Slatine village and drive for more 4km to the east, with mostly gravel, and sometimes, very rough road.
There are no off-shore facilities, so it is preferable to bring some refreshing juices and sandwiches for longer stay.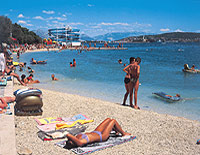 Medena Beach (Seget)
Medena Beach lies along the Seget Riviera, micro-location on the south side of Trogir, 4km from Trogir Center. It is very cultivated 3km long gravel beach surrounded by old pine-woods and various sport facilities: water sport center, tennis courts, football & basketball courts, beach volleyball and Water-slide. Medena beach is part of Medena Hotel Resort with 650 rooms and 200 apartments in the area. To reach Medena Beach, take the bus from Trogir Bus Station for Medena Hotel, drive for 4 km to the west from Trogir, or take a walk (30min.) on the wonderful "Lungomare" from Seget village to "Medena".