Port of Trogir 43o19' N - 16o15,4' E) - port & marina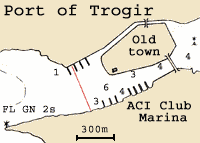 APPROACH:
The bridge joining Island of Ciovo to the small islet of Trogir no longer opens, and with air draught of more than 3m it is no longer possible to take a shortcut between Kastela Bay and Trogir Bay. The best approach to Trogir is from the W, and the best shelter is to the West of the bridge. The main land shore North of Rt Cubrijan is shallow as it is in area South of Rt Cubrijan itself. Keep to the center of the channel up to Trogir and note there is a unlit buoy to the North of the channel, West of the castle. Channel has depth of 11m at the center and 4m near the bridge. There can be strong current flowing under the bridge, and it is normally West flowing.
LIGHTS:
Rt Okruk Fl.G.3s6m5M
Hrid Celice Fl.(3)10s15m6M
Rt. Cubrijan Fl.G.2s4m4M
No nav. lights in the harbor
BERTH:
Tie up in ACI marina or on town quay.

SHELTER:
Good all-round shelter
OFFICIALS:
Harbor master. Police.
FACILITIES:
Water, electricity, showers, restaurant, bar, shop at the ACI marina as well as work-shop and service. There is a slipway and 5 ton crane.
The town has shops, fruit and vegetable market place, a baker, butcher, fish market, Bank and Post office, Medical and Pharmacy center. Bus and Taxi services, car and scooter hire. Airport Split 3km to the West. Tourist Info, restaurants, bars/cafe.
Nautical maps shown here are for information use only. Do not use it for navigation purposes.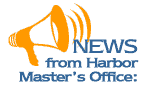 Alle Boote mit der Absicht an der Hafenpromenade von Trogir anzulegen, haben dies dem Büro des Hafenkapitäns mitzuteilen und dies bis spätestens einen Tag vor der Ankunft.
Kontakt:
Telefonisch oder per Fax:
+385/21 88 15 08
VHF Kanäle: 10 & 16
NAUTIC PILOT Marinas und Ankerplätze in der Region um Trogir:
Borak
,
Drvenik Veli
,
Fumija
,
Krknjasi
,
Marina
,
Okrug Gornji
,
Racetinovac
,
Seget
,
Sicenica
,
Solinska
,
Trogir
,
Vela Rina
,
Vinisce
,
Vranjica
.