Krknjasi (43o26,3' N - 16o10,6' E) - anchorage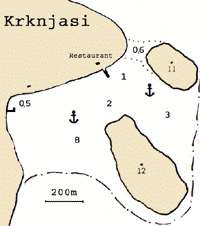 There is delightful anchorage on the SE side of the island Drvenik Veli in the shallow area between the main island and two off lying islands of Krknjasi.
It is an ideal place to spend the day swimming, but should only be used as an overnight anchorage in settled weather, and after checking that the anchor is holding. There are few houses amongst the trees and occasionally tripping boats call here, but there are no facilities ashore, except the restaurant.
The anchorage can be approached from S or SE, passing either side of Krknjas Veli (the bigger islet). The channel between small islet and island Drvenik is very shallow and rocky. Anchor in 3m in the bay formed by the three islands, or anchor and take a line ashore in the W part of the bay. The bottom consists of sand and weed with patches of rock. Be careful where you place your anchor and dig in well. The holding is unreliable. The anchorage is sheltered from W through N to NE.
Nautical maps shown here are for information use only. Do not use it for navigation purposes.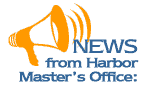 Alle Boote mit der Absicht an der Hafenpromenade von Trogir anzulegen, haben dies dem Büro des Hafenkapitäns mitzuteilen und dies bis spätestens einen Tag vor der Ankunft.
Kontakt:
Telefonisch oder per Fax:
+385/21 88 15 08
VHF Kanäle: 10 & 16
NAUTIC PILOT Marinas und Ankerplätze in der Region um Trogir:
Borak
,
Drvenik Veli
,
Fumija
,
Krknjasi
,
Marina
,
Okrug Gornji
,
Racetinovac
,
Seget
,
Sicenica
,
Solinska
,
Trogir
,
Vela Rina
,
Vinisce
,
Vranjica
.