Sicenica (43o30,1' N - 16o01,2'E) - anchorage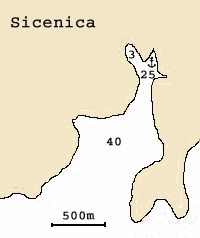 Sicenica is a long inlet on the mainland N of the light structure on the the off lying islet of Muljica. At the far NW end of the inlet there is a quiet sheltered anchorage with depths of between 4m and 10m. This part of Sicenica enjoys all-around protection, although some swell may penetrate in strong SW winds. When entering Sicenica bay beware of Hrid Muljica which is 500m NW of the light structure on island Muljica.
Nautical maps shown here are for information use only. Do not use it for navigation purposes.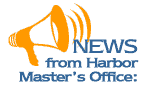 Alle Boote mit der Absicht an der Hafenpromenade von Trogir anzulegen, haben dies dem Büro des Hafenkapitäns mitzuteilen und dies bis spätestens einen Tag vor der Ankunft.
Kontakt:
Telefonisch oder per Fax:
+385/21 88 15 08
VHF Kanäle: 10 & 16
NAUTIC PILOT Marinas und Ankerplätze in der Region um Trogir:
Borak
,
Drvenik Veli
,
Fumija
,
Krknjasi
,
Marina
,
Okrug Gornji
,
Racetinovac
,
Seget
,
Sicenica
,
Solinska
,
Trogir
,
Vela Rina
,
Vinisce
,
Vranjica
.